Anna Katarzyna Jasińska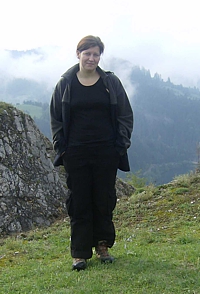 dr Anna Katarzyna Jasińska
Laboratory of Systematics and Geography
Institute of Dendrology, Polish Academy of Sciences
Parkowa 5, PL-62-035 Kornik, Poland
Tel.: +48-618170033
Fax: +48-618170166
E-mail : Ten adres pocztowy jest chroniony przed spamowaniem. Aby go zobaczyć, konieczne jest włączenie w przeglądarce obsługi JavaScript.
Education
2012-2015: Post-doctoral position. University of Tartu, Faculty of Science and Technology, Institute of Ecology and Earth Sciences, Tartu, Estonia, MOBILITAS Project MJD398
2011: Institute of Dendrology, Polish Academy of Sciences, the title of Doctor of Biological Sciences (thesis: Genetic diversity of Pinus sylvestris L. populations from refuges of Tertiary flora in southern Europe and south-western Asia)
2006-2011: Ph.D. student at the Faculty of Biology, Adam Mickiewicz University in Poznań, scholarship holder from the Institute of Dendrology, Polish Academy of Sciences
1999-2004: Master of Science at the Faculty of Natural Sciences, Kazimierz Wielki University in Bydgoszcz (thesis: Sexual structure of the selected populations of Taxus baccata L.)
Research interests
Tertiary and Quaternary climatic changes on plant distribution and evolution,
taxonomy and phytogeography,
biodiversity conservation and forest management,
plant anatomical diversity,
plant variation and biometric analysis,
projected impact of climate change on the structural characteristics and functioning of trees
Projects (coinvestigator)
Geographical differentiation of Abies in the Pleistocene refuges around the Mediterranean Sea, Institute of Dendrology PAS, N N303 412136 (2009-2012)
Geographical differentiation of the gray alder (Alnus incana (L.) Moench) within the natural range. Institute of Dendrology PAS, PhD grant N N303 2930 34 (2008-2010)
Genetic diversity of Pinus mugo Turra in the Giant Mountains, Institute of Dendrology PAS, 2PO6L 04 628 (2005-2008)
Differentiation of Pinus sylvestris stand in the Tertiary floras from the south-west and south-eastern Europe and south-western Asia, Institute of Dendrology PAS, N N303 360535 (2008-2011)
National Biodiversity Information Network, Department of Biology UW, 115/E-343/SPB/P-04/DWM 27/2005-2008 (2005-2008)
Geographical differentiation of Juniperus oxycedrus L. and allied taxa from the areas of the Pleistocene refugia of the Mediterranean flora, Institute of Dendrology PAS, N N303 1634 33 (2007-2010)
Project 'Maestro': Latitudinal pattern in Scots pine traits in Europe: linking plant traits to climatic changes and ecological processes. 2011/02/A/NZ9/00108 (2012-2017)
Centre of Excellence in Environmental Adaptation, University of Tartu, Faculty of Science and Technology, Institute of Ecology and Earth Sciences, Tartu, Estonia, F11100PKTF (TK107) (2012-2015)
Multi-scale interactions between water, carbon and nitrogen fluxes in experimental and natural ecosystems: effects of climate change. University of Tartu, Faculty of Science and Technology, Institute of Ecology and Earth Sciences, Tartu, Estonia, SF0180025s12 (2012-2014)
Structure-function relationships of the water transport pathway of deciduous trees in light of global climate change: Effects of increasing atmospheric humidity. University of Tartu, Faculty of Science and Technology, Institute of Ecology and Earth Sciences, Tartu, Estonia, MOBILITAS Project MJD398 (2012-2015)
Courses
24-30.11.2013: 13th International course on Wood Anatomy and Tree-Ring Ecology, Klosters Dorf, Switzerland
23-25.10.2008: Workshop "Molecular phylogenetics", Warsaw
15.09.2006: Workshop of the National Biodiversity Information Network (KSIB), the Botanical Garden of Warsaw University, training on the software for digitalization of herbarium and living collections "Genesis"
21-23.05.2006: Workshop of the National Biodiversity Information Network (KSIB), Warsaw University
Conferences
07.2013: Third lnternational Conference on Plant Vascular Biology, Helsinki, Finland; poster: Jasińska A.K.,Sellin A., Alber M.2013. lmpact of Elevated Atmospheric Humidity and Canopy Position on Anatomical and Hydraulic Traits of Xylem in Hybrid Aspen
09.2013: XIV OPTIMA MEETING (Organization for the Phyto-Taxonomic Investigation of the Mediterranean Area), Orto Botanico, Palermo; poster: Jasińska A.K.,B. Rucińska, G. Kozlowski, G. Garfì, Boratyńska K., Boratyński A. Systematics of European and South-West Asian Zelkova Taxa.
09.2011: IVéme Colloque international sur le Genévrier thurifere y espécies affines, presentation: "Variation geographique de Juniperus thurifera (Cupressacee) d'apres la morphologie"
09.2009: 5th Balkan Botanical Congress, Belgrade, presentation: "Position of Pinus sylvestris among Balkan southernmost population of the species in the needle, cone and DNA markers"
07.2008: 10th Symposium of the International Organization of Plant Biosystematists, Slovakia, presentation: "Is hybridization between Pinus sylvestris and P. uncinata expressed in morphological traits?"
07.2007: 7th Conference of Plant Life of South West Asia Symposium (7th PLoSWA) in Eskisehir, Turkey; poster: "Quercus alnifolia Poech leaf biometry of endemic population from Cyprus"
07.2005: XVII International Botanical Congress in Vienna, poster: "Sex ratio and differences between male and female specimens in Taxus baccata L."
Publications
Iszkuło G., Jasińska A.K. 2004. Variation in sex expression in Polish and Ukrainian populations of Taxus baccata L. Dendrobiology 52: 29-32.
Iszkuło G., Jasińska A.K. 2005. Sex ratio and differences between male and female specimens in Taxus baccata. In: XVII International Botanical Congress. Abstracts. p. 506.#
Boratyński A., Iszkuło G., Jasińska A., Romo A. 2006. Studies in sex ratio of Juniperus thurifera. In: Actas del III Coloquio international sobre los Sabinares y Enebrales (genero Juniperus): ecologia y gestion forestal sostenible. Soria, p. 341.#
Boratyńska K., Jasińska A.K. 2006. Anomalous needle numbers of Pinus mugo Turra in the Tatra Mts. Acta Scientarum Polonorum, Silvarum Colendarum Ratio et Industria Lignaria 5(2): 25-30.
Ratyńska H., Mazur M., Jasińska A.K., Boratyński A. 2006. Szata roślinna "Uroczyska Dziembówko" koło Piły. [Plant cover of "Uroczysko Dziembówko" near Piła]. Przegląd Przyrodniczy 16(1-2): 45-56.
Marcysiak K., Mazur M., Romo A., Montserrat J.M., Didukh Y., Boratyńska K., Jasińska A.K., Kosiński P., Boratyński A. 2007. Numerical taxonomy of Juniperus thurifera, J. excelsa and J. foetidissima (Cupressaceae) based on morphological characters. Botanical Journal of the Linnean Society 155: 483-495.
Iszkuło G., Lewandowski A., Jasińska A.K., Dering M. 2007. Light limitation of growth in 10-year-old seedlings of Taxus baccata L. (European Yew). Polish Journal of Ecology 55(4): 827-831.
Boratyńska K., Jasińska A., Ciepłuch E. 2008. Effect of tree age on needle morphology and anatomy of Pinus uliginosa and Pinus silvestris - species-specific character separation during ontogenesis. Flora 203(8): 617-626.
Jasińska A., Wachowiak W. 2008. Xth Symposium of the International Organization of Plant Biosystematists. Book of abstracts. Is hybridization between Pinus sylvestris and P. uncinata expressed in morphological traits? Vysoké Tatry, Slovakia p.19.#
Boratyński A., Marcysiak K., Lewandowska A., Jasińska A., Iszkuło G., Burczyk J. 2008. Differences in Leaf Morphology between Quercus petraea and Q. robur Adult and Young Individuals. Silva Fennica 42(1): 115-124.
Jasińska A., Boratyńska K. 2009. 5th Balkan Botanical Congress. Book of abstracts. Belgrade, Position of Balkan Pinus sylvestris among southernmost population of the species in the needle, cone, and DNA markers. Serbia p. 39.#
Iszkuło G., Jasińska A.K., Giertych M. J., Boratyński A. 2009. Do secondary sexual dimorphism and female intolerance to drought influence the sex ratio and extintion risk of Taxus baccata? Plant Ecology 200: 229-240.
Boratyńska K., Jasińska A.K., Sobierajska K., Boratyński A. 2009. A trace of ancient migration of P. uncinata (Pinaceae) in the Karkonosze Mts. (SW Poland)? In: Z. Mirek et al.(eds) Rare, relict and endangered plant species in Poland. W. Szafer Institute of Botany, Polish Academy of Science, Kraków.#
Jasińska A.K., Iakushenko D.M., Sobierajska K., Tretiak P.R., Iszkuło G. 2009. Pinus uliginosa G.E. Neumann ex Wimm., a New Taxon for Ukrainian Fora. Ukrainian Botanical Journal 66 (5): 640-646.
Boratyński A., Jasińska A., Boratyńska K., Iszkuło G., Piórkowska M. 2009. Life span of needles of Pinus mugo Turra: effect of altitude and species origin. Polish Journal of Ecology 57(3): 545-550.
Boratyńska K., Sulikowska A., Iakushenko D.M., Jasińska A.K., Sobierajska K. 2010. Tree-like pines on the Mshana peat bog In the Gorgany Mountains: a trace of Pinus ulginosa migration In the East Carpathians? Acta Societatis Botanicorum Poloniae 79(2).##
Boratyński A., Marcysiak K., Lewandowska A., Jasińska A., Iszkuło G. 2010. Interrelation among con-generic and co-occurring tree species: asymmetric hybridization and the high success of Quercus petraea (Matt.) Liebl. regeneration in mixed Q. petraea/Q. robur L. stands. Polish Journal of Ecology 58(2): 273-283.
Jasińska A.K., Wachowiak W., Muchewicz E., Boratyńska K., Montserrat J.M., Boratyński A. 2010. Molecular but not biometric support for hybridization between P. uncinata and P. sylvestris. Botanical Journal of the Linnean Society 163(4): 473-485.
Boratyński A., Dubicki A., Iszkuło G., Jasińska A.K., Piórkowska M., Marcysiak K. 2011. How environmental signals affect frequency of three-needle dwarf shoots on Pinus mugo. Polish Journal of Environmental Studies 20(1): 45-52.
Iszkuło G., Jasińska A.K., Sobierajska K. 2011. Dendroecological differences between Taxus baccata males and females in comparison with monoecious Abies alba. Dendrobiology 65: 55-61.
Boratyńska K., Jasińska A.K., Marcysiak K., Sobierajska K. 2011. Pinus uliginosa from Czarne Bagno peat-bog (Sudetes) compared morphologically to related Pinus species. Dendrobiology. 65: 17-28.
Iszkuło G., Jasińska A.K., Romo A., Tomaszewski D., Szmyt J. 2011. The greater growth rate of male over female of the dioecious tree Juniperus thurifera only in worse habitat conditions. Dendrobiology 66: 15-24.
Romo A., Marcysiak K., Mazur M., Montserrat M., Jasińska A., Boratyńska K., Boratyński A. 2011. Variation geographique de Juniperus thurifera (Cupressacée) d'apres la morphologie. IVéme Colloque international sur le Genévrier thurifere y espécies affines. Francja#
Iszkuło G., Didukh Y., Giertych M.J., Jasińska A.K., Sobierajska K., Szmyt J. 2012. Weak competitive ability may explain decline of Taxus baccata. Annals of Forest Science 69(6): 705-712.
Douaihy B., Sobierajska K., Jasińska A.K., Boratyńska K., Ok T., Romo A., Machon N., Didukh Y., Bou Dagher Kharrat M., Boratynski A. 2012. Morphological versus molecular markers to describe variability in Juniperus excelsa subsp. excelsa (Cupressaceae). AoB Plants: pls013
Boratyński A., Jasińska A.K., Marcysiak K., Mazur M., Romo A.M., Boratyńska K., Sobierajska K., Iszkuło G. 2013. Morphological differentiation supports the genetic pattern of the geographic structure of Juniperus thurifera (Cupressaceae). Plant Systematics and Evolution 299: 773-784
Jasińska A.K., Boratyńska K., Sobierajska K., Romo A., Ok. T., Bou Dagher-Kharat M., Boratyński A. 2013. Relationships among Cedrus libani, C. brevifolia and C. atlantica as revealed by the morphological and anatomical needle characters. Plant Systematics and Evolution 299: 35-48.
Romo A., Hidalgo O., Boratyński A., Sobierajska K., Jasińska A.K., Vallès J., Garnatje T. 2013. Genome size and ploidy levels in highly fragmented habitats: the case of western Mediterranean Juniperus (Cupressaceae) with special emphasis on J. thurifera L. Tree Genetics & Genomes 9: 587-599.
Sękiewicz K., Sękiewicz M., Jasińska A.K., Boratyńska K., Iszkuło G., Romo A., Boratyński A. 2013. Morphological diversity and structure of West Mediterranean Abies species. Plant Biosystems 147(1): 125-134
Jasińska A.K., Rucińska B., Kozlowski G., Garfì G., Boratyńska K., Boratyński A. 2013. Systematics of European and South-West Asian Zelkova Taxa. OPTIMA (Organization for the Phyto-Taxonomic Investigation of the Mediterranean Area), XIV OPTIMA MEETING, Orto Botanico, Palermo 9-15 September 2013; Abstracts Lectures, Communications, Posters, p.123.#
Jasińska A.K., Sellin A., Alber M. 2013. lmpact of Elevated Atmospheric Humidity and Canopy Position on Anatomical and Hydraulic Traits of Xylem in Hybrid Aspen. Third lnternational Conference on Plant Vascular Biology, Helsinki, Finland 26-30 July 2013, Programme and Abstracts, p. 79.#
Boratyński A., Wachowiak W., Dering M., Boratyńska K., Sękiewicz K., Sobierajska K., Jasińska A.K., Klimko M., Montserrat J.M., Romo A., Ok T., Didukh Y. 2014. The biogeography and genetic relationships of Juniperus oxycedrus and related taxa from the Mediterranean and Macaronesian regions. Botanical Journal of the Linnean Society 174(4): 637-653.
Jasińska A.K. 2014. Jak wilgotność powietrza wpływa na drzewa? Las Polski 12: 14-15.
Jasińska A.K., Boratyńska K., Dering M., Sobierajska K.I., Ok T., Romo A., Boratyński A. 2014. Distance between south-European and south-west Asiatic refugial areas involved morphological differentiation – Pinus sylvestris case study. Plant Systematics and Evolution 300(6): 1487-1502.
Tullus A., Sellin A., Kupper P., Lutter R., Pärn L., Jasińska A.K., Alber M., Kukk M., Tullus T., Tullus H., Lõhmus K., Sõber A., 2014. Increasing air humidity - a climate trend predicted for Northern latitudes - alters chemical composition of stemwood of silver birch and hybrid aspen. Silva Fennica 48: article id 1107
Boratyńska K., Dzialuk A., Lewandowski A., Marcysiak K., Jasińska A.K., Sobierajska K., Tomaszewski D., Burczyk J., Boratyński A. 2014. Geographic distribution of quantitative traits variation and genetic variability in natural populations of Pinus mugo in Central Europe. Dendrobiology 72: 65-84.
Jasińska A.K., Alber M., Tullus A., Rahi M., Sellin A. 2015. Impact of elevated atmospheric humidity on anatomical and hydraulic traits of xylem in hybrid aspen. Funcional Plant Biology ##.
Niglas A.A.N., Alber M., Suur K., Jasińska A., Kupper P., Sellin A. 2015. Does increased air humidity affect stomatal morphology and functioning in hybrid aspen? Botany 93: 243-250.
Jasińska A.K., Rucińska B., Kozlowski G., Bétrisey S., Safarov H., Boratyńska K., Boratyński A. 2015. Morphological differentiation of leaves in the relict tree Zelkova carpinifolia (Ulmaceae). Dendrobiology 74:
Other achievements
Ukraine: cooperation with M. G. Kholodny Institute of Botany of National Academy of Sciences of Ukraine, participation in plant material collection, 1-18.08.2005, 15-28.07.2006, 9-17.09.2007, 26.05-22.06.2008
Spain: cooperation with the Institut Botanic de Barcelona (Consejo Superior de Investigaciones Científicas), participation in plant material collection, 25.08-22.09.2005
Turkey: participation in plant material collection, 22.06-01.07.2007, 10.06-07.07.2009
Awards
First place in Competition of the Kazimierz Wielki Academy in Bydgoszcz, Faculty of Mathematics, Technology and Natural Sciences, faculty of biology in 2004 (thesis: Sexual structure of the selected populations of Taxus baccata L. in Poland)
Scholarship of the Ministry of Science and Higher Education for studies results for year 2008/09
Scholarship of the Ministry of Science and Higher Education for studies results for year 2009/10
University Foundation Scholarship. Adam Mickiewicz University in Poznan for studies results for year 2010