Carry out your research project at the Institute of Dendrology PAS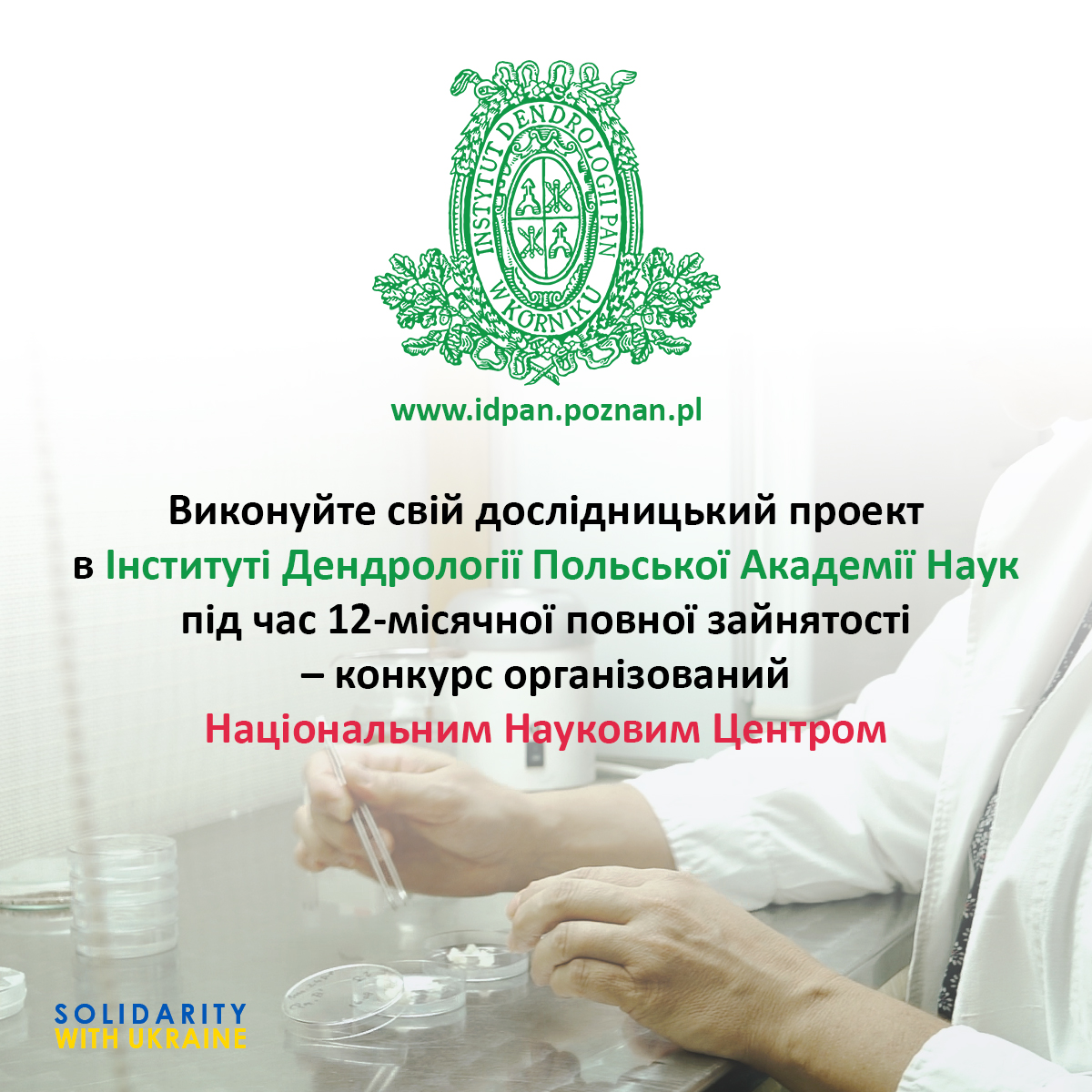 Carry out your research project at the Institute of Dendrology, Polish Academy of Sciences, during 12 months of full-time employment - a competition organized by the National Research Centre
The Institute of Dendrology, Polish Academy of Sciences, invites scientists who wish to continue their research work at the Institute.
We encourage you to familiarize yourself with the competition proposed by the National Science Centre (link: https://www.ncn.gov.pl/ogloszenia/konkursy/program-dla-naukowcow-z-ukrainy)
and the scope of activities of the Institute of Dendrology, Polish Academy of Sciences (pdf attached).
We will support you in writing your project application. If you are interested, please contact the Department of Scientific Information at Ten adres pocztowy jest chroniony przed spamowaniem. Aby go zobaczyć, konieczne jest włączenie w przeglądarce obsługi JavaScript..
PASIFIC at the Institute of Dendrology PAS

We are happy to announce that the PASIFIC Call 1 is now open!
The Call for Proposals runs from 15 March 2021 to 30 June 2021.
Please watch the inviting speech by Prof. Paweł Rowiński, Vice-President of the Polish Academy of Sciences and PASIFIC Coordinator: https://youtu.be/jBoUeL5-f1I
Interested scholars of any nationality and representing all research disciplines can apply for attractive 2-year postdoctoral fellowships at the Institute of Dendrology of the Polish Academy of Sciences.
The PASIFIC fellows will be offered a monthly allowance of approx. €2,500 net. Those, who decide to come to Poland together with their families, may be entitled to an additional family allowance. In addition, they will be granted a research budget of up to €93,000 (€60,000 direct costs and 20% indirect costs).
To apply for the PASIFIC fellowships, candidates must be in possession of at least a doctoral degree or have 4 years of full-time equivalent research experience. Also, they must comply with the MSCA mobility rule and have not lived and worked in Poland for more than 12 months during the three years prior to the call's deadline (July 1st, 2018 – June 30th, 2021).
More information: https://pasific.pan.pl/call-1/
Potential supervisors: https://pasific.pan.pl/supervisors-from-institute-of-dendrology/
PASIFIC Navigator: Prof. Marcin Zadworny Ten adres pocztowy jest chroniony przed spamowaniem. Aby go zobaczyć, konieczne jest włączenie w przeglądarce obsługi JavaScript.
Andrzej M. Jagodziński
Director of the Institute